From the garment manufacturers point of view, one of the main reasons that that manufacturing quotes are not accurate or the production process is not smooth is because the fashion designers often do not send complete tech packs to us!

A complete tech pack will help you save both time and money, and will make the manufacturers life easier also as they wont ever have to guess what to do. A complete tech pack serves three main functions; to layout all the technical specifics of the style, to make clear what is included in the quoted cost, and to act as a common reference document to help clear up any issues that may arise.

Tech packs (short for Technical Packet and also known as a specification sheet) are a set of documents that help explain to the manufacturer how to turn a design into an actual product.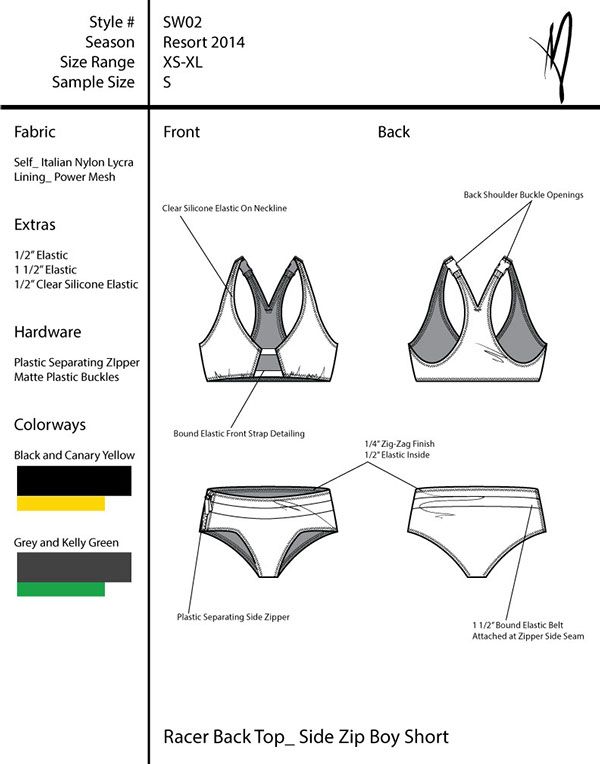 There are 10 essential components to a tech pack:

1. 2D sketches – Black and white sketches of the back, front and any specific details should be included in this sketch. It should be drawn to scale as accurately as possible. This will be used to help create the pattern and is essential to creating a sample that is close to what you visualised

2. Sizing details – at the minimum you are required to provide the factory with one size measurements. They will then use these to produce the first sample

3. Quantity – The factory needs to know the quantity that you want to order

4. Extra details – you need to provide either written details or images of any specific parts of the style that is not obvious from your sketch. This can be things like specific location of images, pleats, bows or cuffs.

5. Bill of Materials – This lists everything that will need to be purchased to make the complete garment. At the minimum it needs to include the main fabric and any additional fabric. For the fabric: describe the yarn, knit structure, weave structure, weight, Pantone color, finish and width. In addition to the fabric, list things like lining, piping, ribbons, shoulder pads, neck tape, thread, buttons, labels, hang tags, hang tag thread, hang tag pins, tissue, poly-bags and desiccant bags. You should also list the embelishments. This includes screen prints, embroideries, lace, appliqué, sequins, patches, shoulder pads, stones, beads, etc. You can illustrate or just write the descriptions of details.

6. Seams and Stitching – Any seam or stich requirements should be detailed here. Things that should be included are; seam width, seam allowance, stitches per inch and seam ISO number

7. Branding – Be very specific in this area. Make sure that you provide the branding image and either illustrate or describe exactly where this image is to be used.

8. Measurement Chart – This will be used for size grading. Although it is necessary for this chart to be included it does not need to be 100% filled in. After you have received the first sampe and decide to proceed with production the factory will then grade your sample to the different size ranges and complete the chart. If you have one the grading yourself then you may complete this chart, however also ensure that you have included acceptable tolerances for each size.

9. Point of Measurement Diagrams – When conducting quality control the factory needs to know exactly how and where to measure and you need them to do this in the same way you did. It is best to use illustrations to show exactly where you want them to measure from when they are checking that the garments are within the allowable tolerances.

10. Identification on Each Page – It is best practise to ensure that identifying information such as your company, brand name, designer name, style number, size range and version number be included on each page of the pack. It is also important to include a list for tracking changes made during the development process.

So there you have it. 10 important steps to ensuring that your garments are manufactured as smoothly as possible with minimal changes and errors.

Want to know more about foreign trade, clothing manufacturing, OEM and ODM design or wholesale garment production? Get in contact with Dongda Garment and we can help you.